Our

Company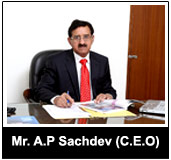 A Vision motivated by Mr A.P. Sachdev. to set up Electricfield in the year 1968. Which is today a very well known name.Electricfield is a success story armed with an unbounded technical and professional spirit with a well-designed goal and the will to win. A young Electrical Engineer with firm faith clear concept, an understanding for customer needs and with a backing of work experience of more than twelve years with multinational company's in India, unleashed himself and set about to make a niche for himself country-wide.
Having a power consumption of less than 80MW at 66KV system in whole of J&K state, mainly of lighting load and partly of old type of industries like flour mills, rice sheller's during 1960 etc. The professional people wandered whether a new venture like ELECTRICFIELD will succeed that too in a state like J&K which had many limitation at that point of time.
At the same time in J&K many hydel projects with larger power generating capacity, Manifold availability of power and subsequent consumption were in the process of completion. Our vision of growth in electrical industry was clear and which has proved correct today.
With a modest start as Electrical Consulting Engineer to the Government Undertaking and Industrial Sector, it poineered into manufacturing of various electrical products used by Power House, Grid Stations, Industries and Commercial as Domestic utilities.
Today the organisation is known by its products. Over a period of time Electricfield came to be known as a company of Power Conditioning equipments, associated with diversified equipments like control and Relay Panel upto 220 KV system, Battery Charging equipment and other associated items. All this further speaks about our products, our services, our growth, our diversification, our manufacturing facilities and capabilities etc.
Electricfield is proud to say that every member of the company believes that "customer is king" ,a belief that reflects in every aspect of our work. While catering to many clients countrywide we are very stringent about customer satisfaction and henceforth me have achieved what we are today.